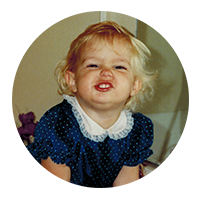 In the words of Calvin and Hobbs, "As my artist's statement explains, my work is utterly incomprehensible and is therefore full of deep significance".
---
Growing up I was told to "do what you love", those words resonated with me graduating high school, working through community college, and ultimately declaring my major for transfer. My passion lies with creation, breathing life into the still cold darkness that is technology's empty canvas. 

Inspiration stems from my love of all things Blizzard Entertainment. Blizzard started their journey with intent to entertain and challenge their fans. Blizzard continues to master the world of MMORPG challenging not only their fans, but themselves in conquering their latest quest initiating Overwatch into Major League Gaming eSports. Not only has Blizzard affected my inner nerd, but it has helped change our outer world. Blizzard Entertainment sponsoring annual fundraisers for various charities focusing their efforts in protecting the abused, nursing the sick, and sheltering the homeless.

Staying at the top of my game I engage heavily in formal and informal education (3D Animation & VFX BFA from Academy Art University, Plural Sight and Digital Tutors software certifications on; Maya Modeling I/II/III, Maya Animation I/II, Mudbox I/II, HDR Maya, Lighting Maya, ZBrush 4R7, ZBrush 4R8, Microsoft Applications, Microsoft Office, Adobe Applications), newsfeeds, magazines, professional associations (Women In Animation aka WIA, CTN aka Creative Talent Network), attend industry conventions, or you can catch me on a number of CG/animation discussion forums.